Welcome to Travelle
Situated on the second floor of the luxurious Langham hotel in an iconic skyscraper designed by Ludwig Mies van der Rohe that once housed IBM regional headquarters, Travelle is located along the Chicago River in the heart of downtown Chicago. A play on the word travel, Travelle is a casually elegant restaurant, lounge, and bar featuring Seasonal American cuisine. Dishes feature ingredients sourced from around the country, utilizing a connection with some of the finest farms, ranches, and orchards in the nation.
Alongside a carefully curated 1600-bottle wine list, Travelle boasts a beverage program that highlights skillfully crafted classic cocktails. Influenced by the romance of the digital age, architect/designer David Rockwell of the Rockwell Group creates a modern environment that conveys history, sophistication, and nostalgia into the 124-seat restaurant and 81-seat bar and lounge that overlook the Chicago skyline and river.
Chef de Cuisine
Justin Gomes
Justin, a Trinidad native, brings a wealth of knowledge and experience to the culinary team and looks forward to fostering an environment of curiosity, and more importantly, community in the kitchen.
He believes in a philosophy of honoring all ingredients he uses in the kitchen while presenting them in an elegant, fun and approachable way. He aims to create a menu that not only triggers a sense of nostalgia in our guests by using flavors and concepts familiar to our guests in new and unique ways that are both interactive and surprising.
"I believe that the most important component in any operation is building an inclusive environment with a culture committed to learning and growth," says Chef Justin. "I hope that the calm, positive atmosphere I aim to create in the kitchen will spread throughout the team and in return will enhance the guest experience."
Justin comes to Travelle with solid roots in the Chicago culinary scene. His previous roles include Chef de Cuisine at Venteux Chicago, Chef de Cuisine at LondonHouse, Sous Chef at Virgin Hotel, Kitchen Manager at Alinea and The Pump Room. Chef Gomes attended the Le Cordon Bleu Chicago, earning an A.S Degree in Culinary Arts.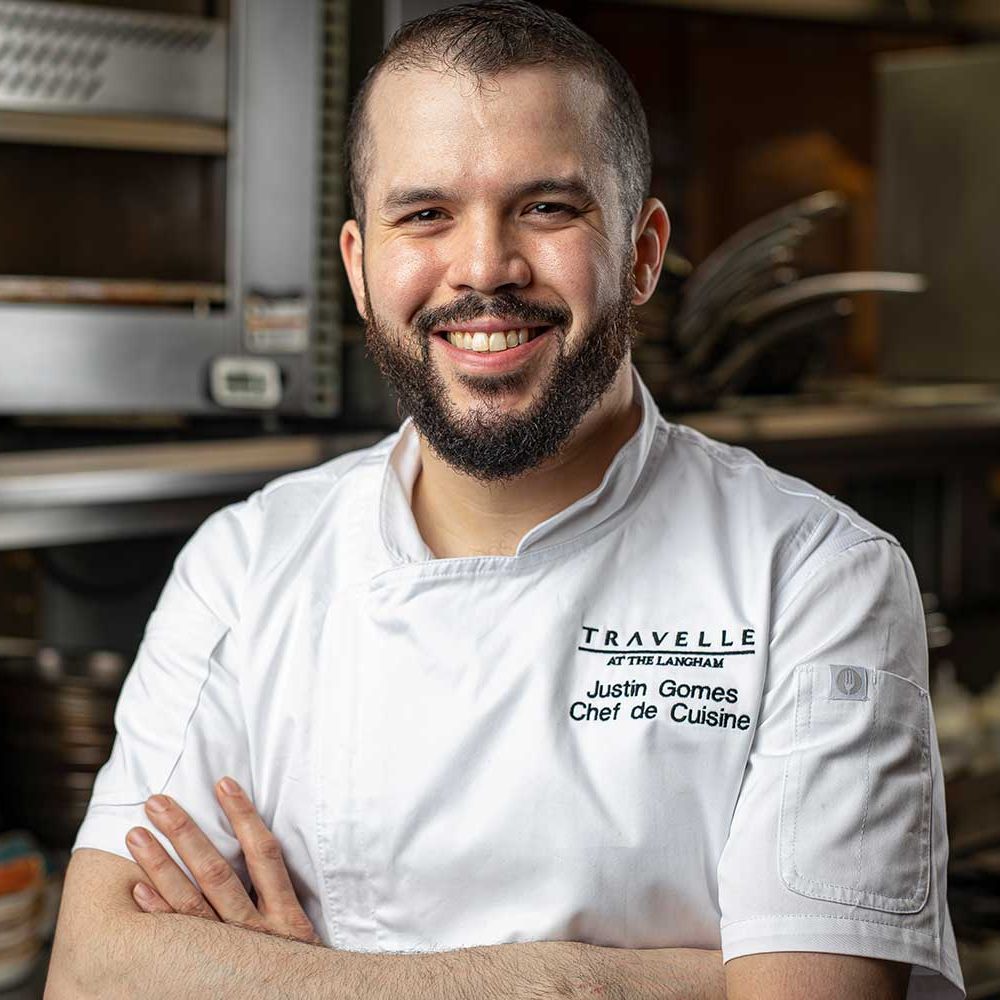 Experience a one-of-a-kind culinary performance